The problems
Elderly and chronically in pays an unreasonably high price for safety in them everyday life. That help do not reach them when in an emergency situation. Their vital connection and lifeline- their safety alarm should guarantee them a direct communication with the home care. But this lifeline has major flaws. Their safety alarm is a false security.
The deficiencies of the safety alarm today, creates an unnecessary concern and uncertainty for users. It even even caused deaths. Today's situation for society's most vulnerable group is completely unacceptable.
What is Vevios
Based on studies and investigations in today's safety alarm and to meet the safety needs of all vulnerable target groups in the future, we developed Vevios.
Vevios is a mobile alarm that functions as one simple device, a wearable technology. In short, a mobile phone bracelet. Vevios is an innovative safety alarm that provides both security and freedom everywhere. The shortcomings of the of today safety alarm are met through innovations in C.E.D.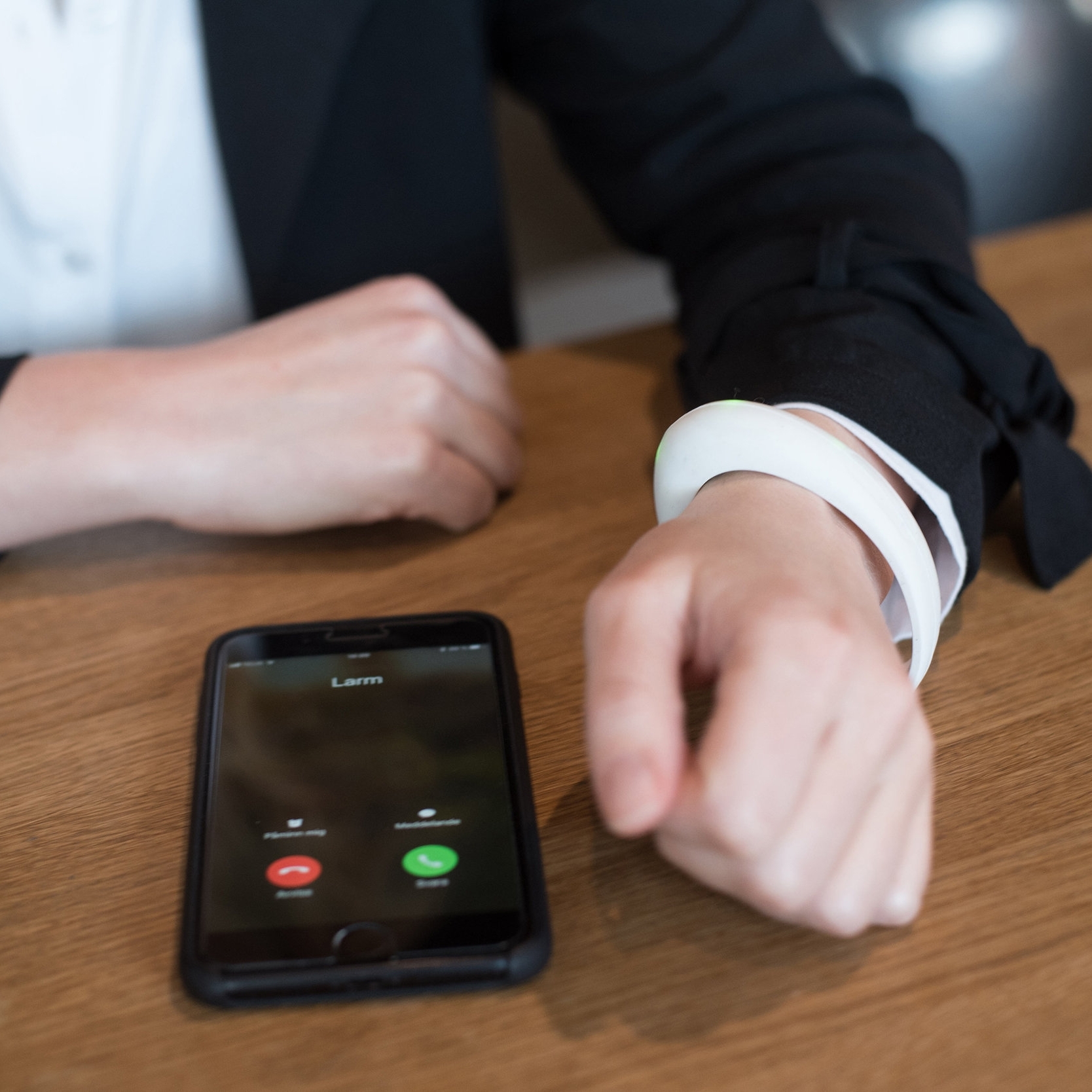 Communication - one simple bracelet
Vevios is an innovative mobile phone bracelet which provides global coverage & range as well as positioning. When activated a two way communication is provided as the user communicates with the receiver directly via the integrated microphone and speaker
Ergonomics - a patented activation
Vevios has a hidden keypad that easily can be activated via the patented PANIC GRIP. This is a gentle activation, which prevents false alarms. Vevios provides a clear visual and haptic feedback when contact is established, until its help reaches out. This ease concerns and provide security.

Design - Simple and stylish
All technology is enclosed in a stylish and elastic bracelet that can be customized to your liking. The inner technical core of the safety bracelet can be reused and the elastic bracelet case replaced when worn. A sustainable and eco-friendly solution.
Other safety areas
Vevios simple and stylish design makes it possible to reach out to other vulnerable professions such as, Journalists, activists, politicians, extreme sports, crime prevention, witness protection, child groups.

Following short movie illustrates the history and functions of Vevios (SE)
Your Vevios support will save lives of others
Make a donation to complete Vevios safety alarm to reach the market. A product development is a costly process and all contributions for Vevios realisation, no matter size will spare lives. Thank you
BG: 5199-6437